25 Years of The North's Premier RISC OS Show
RISC OS Awards' best show or event for 2018 and 2017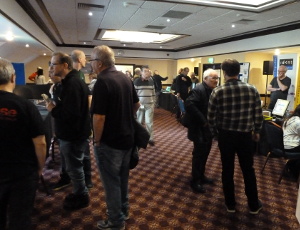 The Cedar Court Hotel
Denby Dale Road, Calder Grove, Wakefield
West Yorkshire WF4 3QZ
(Adjacent to J39 of the M1)
Saturday, 18th April 2020
Tickets will cost
£2
on the door. Entry for children aged 12 or under (accompanied by an adult) is
free
.
Latest news
16 February
–
We're pleased to confirm that entry to the 25th Wakefield Show will be two pounds per person, as a way of saying "thank you" to those who have supported the event over the years.
12 February
–
Latest update to the list of exhibitors at the event, plus website addresses added where known.
10 February
–
The Charity Stall will be at Wakefield 2020, and we've updated the details of what we can (and can't) accept this year.
10 February
–
Details of the local catering options around the venue have been updated for the 2020 show, for those who would like to explore the local area and find a bite to eat during the day.
10 February
–
We've updated the hotel information for the 2020 event, for those visitors and exhibitors who would like to stay in Yorkshire over the weekend.
5 February
–
The latest updates to the list of exhibitors.
19 October
–
The Wakefield Show website has seen an overhaul this year, and should now be compatible with phones and mobile devices as well as desktop computers. In NetSurf, if you resize the browser window significantly, you might need to refresh the page to get the best effect.
19 October
–
We're pleased to reveal that the 25th Wakefield Acorn and RISC OS Computer Show will be taking place on 18th April 2020. More details will be announced over the coming months.